Are your forms converting visitors into leads?
Maybe, You're also one of them facing the issue of Form abandonment. Most of your visitors who start filling up your forms, leave the page uncompleted.
Many of you would think that you are not targeting the right audience. But, Nobody pays attention to the forms you're using to convert your website visitors into leads.
You might be thinking how to fix up this issue? Right?
You are losing a lot of business leads just because of the Form Abandonment problem. In my previous articles, I have already told you about WPForms Form Builder. The most advanced and best WordPress Form Builder plugin.
They've come up with an innovative way to increase your conversions. WPForms has recently introduced a new feature that makes them better than their previous versions.
They've introduced Conversational Forms. It is also known as the best alternative to TypeForm. Many of you might have used TypeForm for creating forms.  It's time to go for Conversational Forms.
Let's know more about this new feature of WPForms.
What Are Conversational Forms?
Conversational Forms by WPForms is a new feature added to the best WordPress form builder plugin i.e WPForms. It can help you create more human-like forms for your WordPress Websites. It is truly an interactive form layout builder feature that is designed to help you in increasing your form conversions.
It was built by keeping in mind the problem of Form Abandonment and Conversions. It is built so nicely that I'm in love with its design and amazing user interface.
The concept behind Conversational forms is to make your users feel that they are in a conversation with your websites. It will help in giving a face-to-face conversation feel to your website visitors just like this.
You must have seen similar kinds of form on other websites. The best part of Conversational forms is that they have a full page form layout making it more distraction free. If there is less distraction then there will be a higher form completion rate.
That is how conversational forms work for WordPress Websites.
You must have used WPForms for creating many types of forms on your WordPress website. You can add your business logo, progress bars, different color schemes and a lot more. In fact, I have tutorials on creating forms with WPForms.
One more plus point will be that you can change all your existing Forms on your website into Conversational Forms in a single click.
You Can Use Conversational Forms To Increase Your Conversions On:
Survey Forms- You might have build static as well as dynamic survey forms but it will be the first time that you can create conversational survey forms using WPForms Add-ons. This will result in increasing your survey forms conversion rates.
Registration Forms- You can use Conversational Forms to increase the number of registration on your product page/ business website.
Email Subscription Forms- If you're a blogger and trying to increase the number of email subscribers on your blog. You should try conversational forms to increase your email list.
Job Application Forms- If you're in a corporation and you're hiring employees for your company then you might have an online application form for the job. You can increase the number of applications by having a more human-feel conversational form.
How Conversational Forms Can Be A Right Choice For You?
Many of you might be using TypeForm for creating such Forms for your websites because there was no alternative to TypeForms. But, With the introduction of Conversational Forms by WPForms. You have now the best alternative to TypeForms.
Let me tell you Why Conversational Forms is all you need to improve your website conversions.
WPForms is one of the leading WordPress Form Builder that is being used by over 1 million websites.
Conversation Forms Addon in WPForms can help you build forms within minutes.
It's available at a lower price than that of TypeForm. It means It is cost effective.
It offers a great user interface and user experience to your website visitors.
Want to see a demo of Conversational Forms By WPForms?
How To Create Conversational Forms In WordPress?
First of all, you have to install WPForms plugin from your WordPress dashboard.
Now you need a "Pro" License of WPForms if you want to use the Conversational Forms Add-on feature. You can get a WPForms Pro License from here. click here to get at a discounted price
Once you've purchased the license key. Just navigate to WPForms>Settings and verify your license key to get started.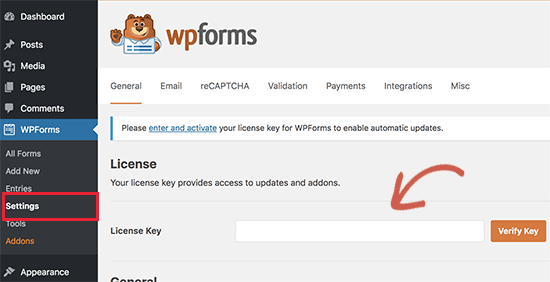 Now you have to go to WPForms>Add-ons page and choose the conversational form addon.
Just click on Install Addon and wait for few seconds. It will be automatically activated.
Now, You can use the Conversational feature of the WPForms Form Builder. Refer to this guide on creating a form with WPForms and then enable the Conversational Forms Mode.
At the same time, You just have to enable Conversational Forms option in every existing form that are live on your website.
Final Thoughts
This is really a big plus for WPForms. With so many amazing Add-ons in their WordPress Plugin they continue to be at the top of the best WordPress Form Builder plugins. I always suggest everyone for WPForms if you're having a serious business online.
This tool will certainly help you achieve your conversion goals on your website.
You need to have a WPForms Pro license in order to use all the amazing features of WPForms Plugin.